Thu, 24 October 2019 at 8:22 pm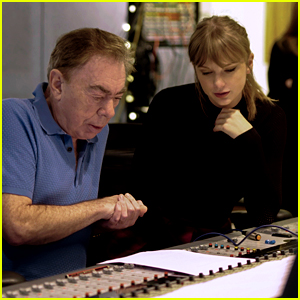 We're going to have to wait a little bit to hear the full version of Taylor Swift's new song "Beautiful Ghosts," but we just got a sneak peek in a new featurette for the movie Cats!
The video shows Taylor in the recording process and she opens up about the new track, written specifically for the film.
"Beautiful Ghosts" will be performed by Francesca Hayward in the movie and Taylor has recorded her own version for the film's end credits.
"When I first read the screenplay, the first thing I said was, 'We have to have a song for Victoria,'" composer Andrew Lloyd Webber said. "Beautiful Ghosts [is now ] an incredibly important and central part of the whole film."
"What I couldn't believe was the extraordinary beauty of these lyrics that Taylor had written," director Tom Hooper said. "It was as if someone had come into the film I was in the middle of making and … had reflected back to me a profound understanding of what we are trying to do with the movie. It was utterly thrilling."
Taylor added, "You can't write a modern lyric for Cats. So if you can't get T.S. Eliot, get T.S… I'm here for you."
Like Just Jared Jr. on FB