Tue, 29 October 2019 at 7:45 pm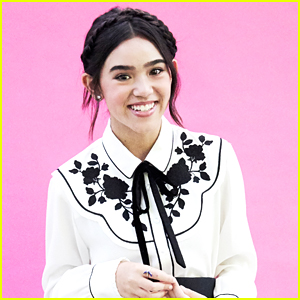 Jolie Hoang-Rappaport is about to become your new favorite actor!
The 14-year-old actress, who you might recognize from Just Add Magic and Cousins For Life, stars in the new HBO series Watchmen as Bian.
Set in an alternate history where masked vigilantes are treated as outlaws, Watchmen embraces the nostalgia of the original groundbreaking graphic novel of the same name, while attempting to break new ground of its own.
We caught up with Jolie and learned the coolest 10 Fun Facts about her. Check them out below!
Watchmen was the first time I ever had to cry for an audition and in a show. I was a wreck preparing for it, but the casting director and the director of the episode were really supportive. I felt accomplished afterwards, and completely exhausted the rest of the day.
My favorite on location shoot ever was when I filmed near a small alpaca farm for Watchmen. I got to pet and feed goats, mini donkeys, chickens, and pigs. Ever since then, I dream of owning a small farm one day.
I practice Krav Maga, which is a form of self-defense created by the Israeli military. I forgot my gloves and split my knuckles from punching the pads two days before the Watchmen premiere.
I started out professionally in musical theatre when I was eight years old. I played a Who in How the Grinch Stole Christmas and an angry dwarf in A Snow White Christmas. Those experiences cemented my love for acting and led to what I'm doing now.
I went scuba diving in the Maldives with my family last winter break and swam with sharks and stingrays. I even spotted a gigantic turtle that I was the size of my kitchen table. I love the ocean, and I'm currently studying marine biology.
Italy is on the top of my travel wish list. Mainly, so I can eat pasta and gelato at every meal. I also want to visit the olive grove in Tuscany where my parents got engaged.
Watchmen airs Sundays at 9PM ET/PT on HBO.
Click inside for more fun facts about Jolie Hoang-Rappaport…
I inherited a sweet tooth from my dad, and I can't resist sugar. When I celebrated my birthday on the set of Just Add Magic, I ate a big slice of chocolate cake, a snow cone, and drank a large root beer float in one sitting. Unsurprisingly, I ran around the stage squawking and flapping my arms like a bird afterwards because of the sugar high.
I'm biracial; Vietnamese and Jewish. I love visiting my bà ngoại (grandma) because she loves cooking traditional Vietnamese cuisine for me. She shows her love through food.
I begged my parents for a puppy for eight years, but my mom kept refusing because she is allergic to dander. She finally caved and got me a hypoallergenic fluff-ball we named Mr. Darcy for my birthday a little over a year ago. Persistence triumphs in the end; begging helps too.
I hope to work with Zendaya and Emma Stone one day. I admire their creative choices as actors. They seem to have a great sense of humor and are grounded and kind.
Like Just Jared Jr. on FB