Wed, 30 October 2019 at 5:52 pm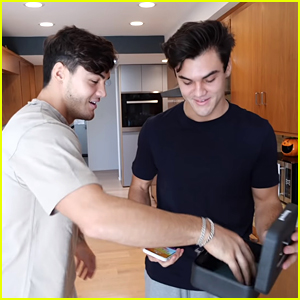 You may have noticed that after the Dolan Twins uploaded their last video with Shane Dawson, they disappeared from the internet for a week, and there's a reason!
Ethan and Grayson Dolan took a week off from using their phones right after they uploaded their video, living completely off the grid and out of touch with their devices.
While on their break, the twins took a trip to Hawaii and enjoyed their time without having to be stressed or worried about any numbers or social media. On their trip, they took disposable cameras and film rolls for their film camera to be able to document their trip and have keepsake memories.
"I feel so cleansed. I went a week without my phone and I never thought that I'd be able to do that," Ethan said.
"This was so refreshing. It was literally drinking a cold cup of water, but for my soul," Grayson added.
After they got their phones back, Ethan and Grayson were blown away by the views and support they received on their last video.
Read More: Ethan & Grayson Dolan Announce They're Taking Time Away From YouTube
Like Just Jared Jr. on FB