Thu, 31 October 2019 at 5:16 pm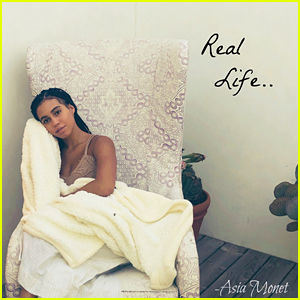 Asia Monet Ray reveals she was a bit uncomfortable and nervous about her new song "Real Life"!
The 14-year-old dancer and singer dropped her new track, which is a more personal and vulnerable song for her.
"I'm really happy to share this song with you all. Im sorry it's been a minute since my last song. Thank you for being patient. This time around I was a bit nervous in the studio about this song at first. It's a more personal song with emotions that are sometimes uncomfortable for me," Asia wrote on Instagram.
"I want to thank my supportive and talented team, who has always been there. We have always took our time to create the best projects that we all collectively feel great about," she continued. "They always bring out the best in me even when it's uncomfortable to share my real feelings and emotions and be vulnerable to the word. Thank you @thereallevans and @thelancetolbert for taking my feelings and fears and creating such beautiful Lyrics that hit home with me. And big Thank you @kellisae, my day one, for believing in me at the age of 9yrs old and taking me under your wings, I am so thankful for you. And @monetbagneris .. thank you for supporting every session with us❤️Much love to my A Team. I'm so very grateful!"
"All of you, that continue to motivate me and support me here, It is never taken for granted or over looked. I thank you for following my Journey with me and always being here. . Please comment what you feel or take away from this song. Love you guys!!" Asia added.
Listen to "Real Life" below and be sure to download it HERE!
Like Just Jared Jr. on FB