Sun, 03 November 2019 at 9:29 pm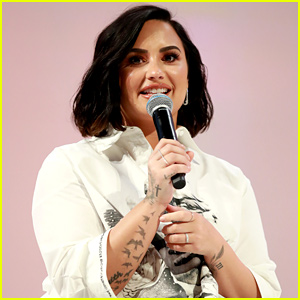 Demi Lovato is getting candid in her first big interview since her hospitalization more than a year ago.
The "Echame la Culpa" singer took the stage at the 2019 Teen Vogue Summit at Goya Studios on Saturday (November 2) in Los Angeles. Here's what she had to say:
On releasing new music: "Here's the thing with new music. I know you guys have wanted it. But it's important to remember that I'm so cautious this time around, about jumping back into things. I really decided to take my time with things. I am dying to release music, but it's coming in due time."
On how she reacts to social media bullying: "What people don't realize is that I'm actually an extremely sensitive person, when someone says something mean on the Internet or makes fun of me, I have a pretty good sense of humor, but if it's something I have experience with it can be really hurtful… I am human, so be easy on me. And I'm so tired of pretending like I'm not human."
On who inspires who most right now: "The person that I think that's most impacting me today is my mom. We've gotten really close over the past couple of months. And her strength just continues to inspire me every single day."
On what she sees when she looks in the mirror: "I see someone that has overcome a lot. Like, if I could change my middle name to 'Resilience,' ——which I can, so I don't know why I just said that—I would. I just have been through a lot and I genuinely see a fighter. Like, I don't see a championship winner in there, but I see a fighter."
"I just want people to remember that I'm a singer. A lot of the things that I have been through outshined my successes in the music industry. I just want people to remember that that's what I want to give to the world, so please focus on that."
ICYMI, be sure to also hear what Demi Lovato had to say about about how she navigates being in the spotlight.
READ MORE: Demi Lovato Dresses as a Historical Figure for Halloween!
Like Just Jared Jr. on FB
Credit: Rich Fury; Photos: Getty
Posted to:
Demi Lovato