Mon, 04 November 2019 at 11:59 am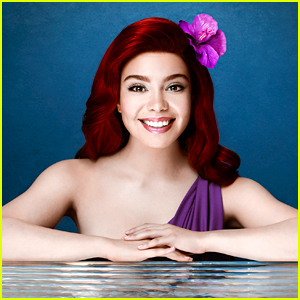 We've only got one more day until the premiere of The Little Mermaid Live!
Starring Auli'i Cravalho, Queen Latifah, John Stamos, Shaggy and Graham Phillips, the magical event will be filled with the original animated movie, plus live performances of all your favorite songs from the soundtrack.
Entertainment Weekly spoke to director Hamish Hamilton about how the broadcast will be done and what fans can expect the event to be like.
"In its most basic explanation, it's actually quite simple. We will start the animated feature on a giant screen presented in a room. The television audience is almost at a concert where the star is the movie on a screen. Very quickly we're going to go full frame into the movie so the audience on television are watching the animated feature as they have done a few times if they're fans," he explained.
Hamish adds that "the point we get to a song, we will transition from the animated feature back into our room where we will reveal our cast performing the songs. At the end of the song, huge applause, and we transition back into full frame animated feature."
"It's about 55 percent of what we're creating is the animated feature and then about 45 percent of what the TV audience will see are live performances."
He also spoke about the blending of the live part and animated feature, hoping to make "the blend beautiful. The Hollywood Bowl clearly demonstrates that it can work and it does work, and we're taking a stage further."
"We hope that when we present it, people like yourself — well, actually everybody, but particularly people like yourself who love the movie so much will love our take on it."
The Little Mermaid Live! will premiere Tuesday, November 5th @ 8PM ET/PT on ABC. Check out some behind-the-scenes pics below!
Like Just Jared Jr. on FB