Wed, 06 November 2019 at 12:51 pm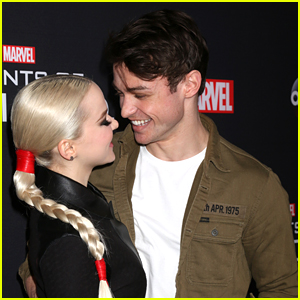 Dove Cameron is gushing over her boyfriend Thomas Doherty once again!
The adorable couple have been dating for about three years now, and he recently opened up about her being "The One".
After seeing what Thomas said about her, Dove got emotional and echoed some of his feelings.
"I cry, like, every day when I'm with him because…he's just the most pure, loving, selfless, generous, kind [person]," she told ET. "His life is about the people that he loves and I feel so lucky to be loved by someone like that."
"I always told my mom when I was little, 'I think I am going to be alone for my life,' because I never thought anybody would understand me or I knew people read me wrong, even when I was little," Dove continued. "And so, meeting Thomas… it was like, 'Oh, there you are.' I know that we are three years in, but it feels like this every day."
As for whether or not they're going to get married, Dove says, "I go back and forth on whether that is a thing that I even want to do. I think…yeah, if I'm going to marry anyone, it's going to be him."
Like Just Jared Jr. on FB