Wed, 06 November 2019 at 6:10 pm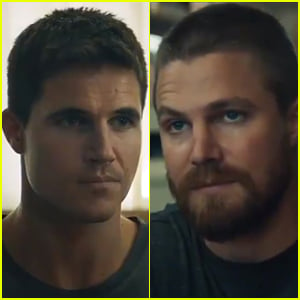 The trailer for Robbie and Stephen Amell's movie Code 8 is here!!
The cousins made the movie with the help of over 25,000 backers on an IndieGogo campaign.
"So… starting December 13th in LA, NYC, Kansas City, Philly, Dallas, Miami (and plenty more cities yet to be announced) you can head to a movie theater and watch Code 8. Conversely, if leaving the house feels like a pain in the a– just hop on iTunes or Prime Video or Google play or Vudu (I don't know what that is…) or basically any on-demand platform you can think of and watch Code 8 from the comfort of your own home. (Quick aside… don't watch it on your phone. We aren't animals.) However you end up watching try and keep one thing in mind: This movie is possible because over 25,000 people put their faith in my older cousin Robbie, our fearless director Jeff, me and the entire team behind this movie. This is the beginning of the Code 8 adventure. We are so proud to share it with you," Stephen wrote on Instagram.
"In select theaters and everywhere on demand Dec 13! Thank you to the over 28,000 backers who helped make this movie happen. We truly couldn't have done it without you. We hope you enjoy your movie!! Full trailer online cause I don't know how to use Instagram right," Robbie added on his account.
Check out the trailer right here and be sure to catch the movie in theaters and on demand December 13th!!
Like Just Jared Jr. on FB