Sat, 09 November 2019 at 6:08 pm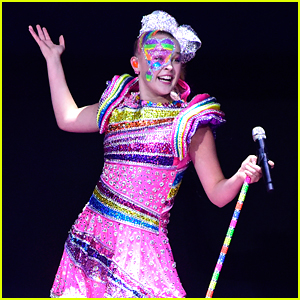 JoJo Siwa is continuing to do some pretty awesome things!
The 16-year-old entertainer recently wrapped up her D.R.E.A.M. The Tour in the UK and broke a pretty big record while there.
JoJo performed at the legendary O2 Arena earlier this week, and by doing so, she became the youngest artist to headline the arena, and she had a sold out crowd!
"10,000 people, sold out, the youngest person to ever perform/headline at the O2 arena, show #86, best night of my life. My dad said I did a good job and he's really proud, my mom said you did better yesterday…. JK, my mom said she loves me no matter what. That was crazy, unreal, a long time dream of mine come true, the "Best one yet"⚡️❤️" she shared on Instagram.
JoJo also shared a note after wrapping up the whole UK leg of her tour.
"The past 11 days have been filled with hard work, laughing, coughing, sneezing, not sleeping, cod'ing, performing, lots of hair, lots and lots of glitter, Rock Paper Scissors, new foods, new countries, new people, and a whole lot of love and fun! D.R.E.A.M. The Tour in the U.K. that's a WRAP! Thank you to the 60,000 people who came to our shows here, thank you to my crew for making everything happen seamlessly this trip, thank you to my dancers for making everyday fun, thank you to my family for making me always feel normal! To the 50+ people that traveled with me on this trip, seriously thank you! Nothing would be possible without your help in my show! I'm going to miss the stage so much, but we will be back in January down under! I'll see you guys soon! #TheDreamBowIsMissingAgain," she wrote.
JoJo is not done yet – D.R.E.A.M. The Tour will next head to Australia in January. Check out tickets here!
Like Just Jared Jr. on FB