Sun, 10 November 2019 at 12:30 pm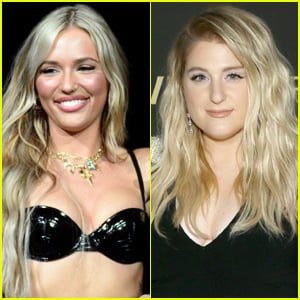 Meghan Trainor got to team up with her "favorite vocalist" Lennon Stella for a new song!
The duo joined forces with singer Sasha Sloane for their new single "Workin' On It" which is all about believing you are as great as people tell you.
"I absolutely adore these 2 humans and it was such a f**kin pleasure getting to write n sing this song together. there are few things I love more than people who pump eachother up and want eachother to feel good, this writing session was only that. I hope this song makes you feel somethin tingly in ur heart when you hear it ❤️❤️❤️ biggest love," Lennon wrote on her Instagram.
Meghan added, "I know I personally struggle a lot with receiving compliments. I used to always respond with 'ew' or 'no, stop' and I've always wanted to write a song about how to change this bad habit and maybe have it help others too. In almost every interview, I get told how I'm a role model for positivity and confidence but the truth is, it's something that I still work on every single day. I'm working on believing the kind words and fully accepting and loving myself. For realz. That's why it means so much to me to share this song with all of you."
Watch the whole song come together below…
Like Just Jared Jr. on FB