Sun, 10 November 2019 at 2:39 pm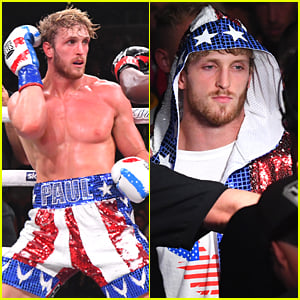 Logan Paul reps the US with his shorts and robe at his pro boxing match against KSI at Staples Center on Saturday night (November 9) in Los Angeles.
The 24-year-old YouTuber ended up losing the rematch after a hit caused him to lose a couple of points.
After the fight, Logan congratulated his competitor on his win in a post on his Instagram story.
"Congrats you tough a– conquering a– motherf–ker. you gave it everything. we put on a good show and I'll love you forever … even if we do a rematch," he wrote.
Logan had a lot of support in his corner, including Justin Bieber who attended the match.
Like Just Jared Jr. on FB