Thu, 14 November 2019 at 10:51 pm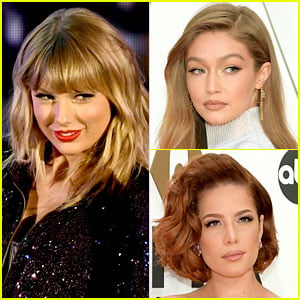 If you want to see Taylor Swift perform her old songs at the 2019 American Music Awards, you're going to have to speak out and there are many celebs who are doing just that.
The 29-year-old singer is trying to get the rights to perform her own music live as she says that Scooter Braun and Scott Borchetta are not allowing her to do so unless she agrees to their conditions. (If you didn't know, they own the master recordings for her first six albums.)
Taylor says that the men are not letting her perform her old songs at the upcoming AMAs and they won't let her use old performance footage in a planned Netflix documentary.
"Please let Scott Borchetta and Scooter Braun know how you fell about this," Taylor wrote in an open letter posted to social media on Thursday (November 14). "Scooter also manages several artists who I really believe care about other artists and their work. Please ask them for help with this – I'm hoping that maybe they can talk some sense into the men who are exercising tyrannical control over someone who just wants to play the music she wrote."
Taylor's friends like Gigi Hadid and Halsey are among the stars who have shown support so far on social media. Read more tweets below!
Scott and Scooter, you know what the right thing to do is 🙏🙏
Taylor and her fans deserve to celebrate the music!!

— Gigi Hadid (@GiGiHadid) November 15, 2019
📲 IG | Halsey supporting Taylor via Instagram story #IStandWithTaylor

"It is her grace and patience in these moments that make her Artist of the Decade." pic.twitter.com/zC12Yq2x9G

— Taylor Swift News (@TSwiftNZ) November 15, 2019
Click inside to read a lot more tweets from celebs…
Solidarity with Taylor here, this sounds awful, and people wonder why music hasn't had its #MeToo moment ? https://t.co/lqfRVfhDYK

— LILY ALLEN 2.0 (@lilyallen) November 15, 2019
Fuck that. We're with you

— TINASHE (@Tinashe) November 14, 2019
this is so messed up. 💔 https://t.co/8Bqeka4F7j

— Katie Stevens (@thekatiestevens) November 15, 2019
what a complete power pull @scooterbraun @scottborchetta. the way this industry is set up, there are times where we have to get legal permission to perform anything we share rights to. but denying access like this is solely to play with and diminish a person. https://t.co/noNDUeFzYE

— Rebecca Black (@MsRebeccaBlack) November 15, 2019
I'm with @taylorswift13. I don't know shit about the music industry, but I know how it feels to be patronized and manipulated by powerful men. STICK IT TO THE MAN SIS! We got you

— Demi Burnett (@demi_burnett) November 15, 2019
the fact that taylor swift is having the rights to her art basically stolen from her because two businessmen want to make as much money as possible, regardless of how immoral it is…that's insanely fucked up. Artists and creatives need to stop getting taken advantage of.

— Jessie Paege (@jessiepaege) November 15, 2019
These guys are assholes. How do they live with themselves? Why would anyone want to work with them? If you are an artist, why would you support them? https://t.co/GHV7zyMzzP

— Joseph Kahn (@JosephKahn) November 14, 2019
Good work is more important than money.

— Joseph Kahn (@JosephKahn) November 15, 2019
Some people come into the entertainment business and only see the business. But this is business made of people, feelings, stories. If you can't see the humanity of this world, you don't belong here with us.

— Joseph Kahn (@JosephKahn) November 15, 2019
Scooter and Scott sold Carlyle Group on false premise: Taylor would cooperate on them buying her catalogue. She will not. This is a disaster for them. As businessmen they have to cut their losses and sell Taylor back her catalogue, otherwise it's negligence to their investors.

— Joseph Kahn (@JosephKahn) November 15, 2019
I stand in solidarity with all artists who try to bring their work in its best form to the fans. There's no doubt that that's what Taylor is trying to do. I hope these folks do the right thing. 🎶❤️🙏🏻 https://t.co/1eJaVseS1w

— Mike Birbiglia (@birbigs) November 15, 2019
Sorry I'm not a pop superstar @taylorswift13 cause i def wouldn't be quiet like all these lames

— PrattDaddy.com (@spencerpratt) November 15, 2019
I can't imagine how frustrated and angry Taylor Swift must feel. I'm mad

— Tessa Violet (@TessaViolet) November 15, 2019
Like Just Jared Jr. on FB