Sun, 17 November 2019 at 4:30 pm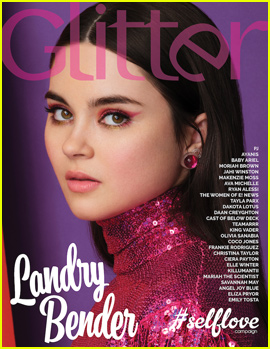 Landry Bender looks stunning on the cover of Glitter magazine's winter issue, available now.
The 19-year-old actress opened up about what inspired her to start her career and her new series Looking For Alaska. Check it:
On why she wanted to be an actress: "One of my first memories was going to see a musical with my mom when I was 4. It was the first time I felt an extreme pull to something, and I couldn't stop talking about how amazing it was. About a month later, my parents had me audition for a community theatre in Arizona, and here we are."
On auditioning for Looking For Alaska: "I had been auditioning for our casting director Patrick Rush since I was about 14 or 15 years old. He had me come in to read for two of the other female parts on her show until he finally had me read for Sara a couple of weeks before I left for Louisiana to start filming. She was always the best fit for me, but I guess the character wasn't supposed to be in every episode, so they were going through rewrites during my audition process. In some cases, I would be thrown off by that process, but Patrick's become one of my favorite casting directors to read with and always makes me feel so comfortable."
On her Looking For Alaska character: "I play Sara Bankhead Harbert. She is from the upper class of Alabama. In the first half of the series, she can come across as extremely entitled and elitist, but it stems from her upbringing and the ignorance of the bubble she was raised in."
For more from Landry Bender, visit glittermagrocks.com.
Like Just Jared Jr. on FB