Tue, 19 November 2019 at 12:54 pm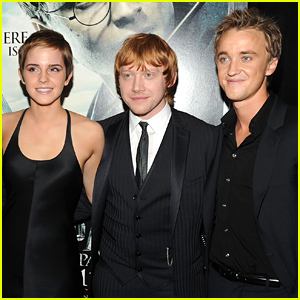 Fans have always seen the spark between Emma Watson and Tom Felton, and it looks like Rupert Grint might have too.
In a brand new interview, the -year-old actor opened up about the would-be/could-be couple who have shared new pics together with fans and fueled more romance rumors, even though they say they're not a couple at all.
"There was always something," Rupert shared with ET. "There was a little bit of a spark."
He added, "But we were kids. It was like any kind of playground romance. I didn't have any sparks. I was spark-free."
Tom also recently opened up about Emma's label of "self-partnered" before praising his friend more.
"I like [the term self-partnered]! It's the first I've heard of it, but it's great. I'm in the same category to be honest with you, quite happily self-partnered," Tom said. "I think in this day and age it's not a necessity to be with someone just for the sake of being with someone, so I like the idea of self-partnering. I think you need to love yourself before you can love anyone else, so that's a start."
He added of Emma, "It's always nice to bump into her, see her at the beach, or over dinner, or whatever. She's an incredibly smart and lovely young lady, so it's always nice to bump into each other and slightly reminisce about old times but also about looking forward to the future."
Just recently, Tom taught Emma how to play a little guitar in a new Instagram.
Like Just Jared Jr. on FB