Wed, 20 November 2019 at 3:56 pm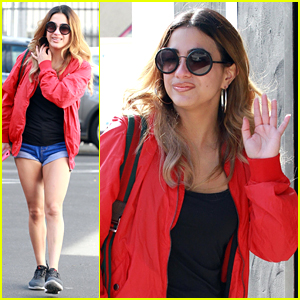 Ally Brooke arrives at the dance studio in super short shorts for rehearsal on Tuesday afternoon (November 19).
The 26-year-old singer met up with partner Sasha Farber and his wife, Emma Slater, after running into and giving Lindsay Arnold a hug about her return to the studios.
Speaking with US Weekly, Ally opened up about having a new purpose for the finals following the shocking elimination of James Van Der Beek earlier in the week.
"I am so focused. I have more of a sense of purpose with everything that happened in the past 24 hours. So I'm taking in every moment. I'm grateful," Ally says. "I'm going to definitely push myself and I'm going to soak in the days and the fact that I'm here because it's not easy to get to the finale and the fact that I made it is really, really incredible."
Speaking of the finals, she also spoke and her and Sasha's freestyle.
"I'm very excited. It's one of my favorite songs and it's definitely going to be a strong moment, a strong way to exit," she shared. "My biggest hope is that with the freestyle, people see me and that they love this freestyle and they connect to me and I hope that this is a dance that will get me to win. But if not, at least I'm gonna put my entire soul into this dance."
Like Just Jared Jr. on FB