Thu, 28 November 2019 at 12:30 pm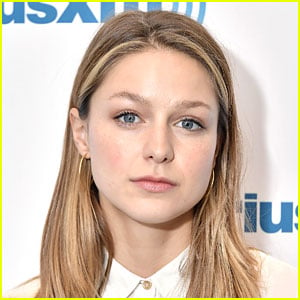 Celebs are speaking out with support for Melissa Benoist after she bravely came forward as a survivor of domestic violence.
The 31-year-old Supergirl actress has Hollywood rallying around her right now and the amount of love she's receiving from around the world is so inspiring to see.
Melissa's Supergirl co-stars Chyler Leigh, David Harewood, and Jeremy Jordan are just some of the many celebs who have spoken out with messages of support. Famous friends of hers have already shared messages as well.
Other stars like Dove Cameron, The Good Place's Jameela Jamil, and more have also written tweets in support of Melissa and her bravery.
The National Domestic Violence Hotline can help victims and survivors of domestic violence. If you or someone you needs help, please call 1-800-799-7233.
just finished watching, and @MelissaBenoist is a fucking hero. talking about something as complex & layered as intimate partner violence so openly, as she did, is a massive feat & such a selfless act that will hopefully heal so many. we can all only hope to be as brave as she is.

— Dove Cameron (@DoveCameron) November 28, 2019
This is one of the bravest and most powerful things I've ever seen. I've suffered DV and never had this level of eloquence to describe the conflicting feelings of it. Nor have I had the courage to so explicitly explain the scenario. What an amazing young survivor @MelissaBenoist https://t.co/oaTeeBhYET

— Jameela Jamil 🌈 (@jameelajamil) November 28, 2019
Click inside to read lots of tweets from celebs…
Real life Supergirl. #istandwithmelissa

— Sarah Jeffery (@sarahjeffery) November 28, 2019
#istandwithmelissa This is beyond brave, this is heroic. Like a poppy rising from the ashes, Mel you are a powerful example of how a beautiful life can bloom from the deadliest of conditions. I love you dearly and am thankful you've shared your story ❤️ https://t.co/HHbZldQVLT

— Chyler Leigh (@chy_leigh) November 28, 2019
#IStandWithMelissa and so does jeremy jordan ❤ pic.twitter.com/O6KRxAbJwa

— r o s s (@supahgays) November 27, 2019
Proud of @MelissaBenoist today and always. She earns the title in every way. #Supergirl

— David Harewood (@DavidHarewood) November 28, 2019
If you were wondering why the character @MelissaBenoist plays seems so authentically brave, it's because @MelissaBenoist actually is authentically brave. https://t.co/dONWQYwG93

— Jon Cryer (@MrJonCryer) November 28, 2019
This is what strength looks like. Thank you for sharing this powerful video. You are an inspiration. END IPV NOW. END VIOLENCE NOW. Melissa Benoist Shares Her Story Of Domestic Violence In Emotional Instagram Video https://t.co/oRVq7fPCZn via @Deadline

— Julie Gonzalo (@julie_gonzalo) November 28, 2019
We adore you. Thank you for sharing your story ❤️

— Nicole Maines (@NicoleAMaines) November 28, 2019
Very proud of & impressed by @MelissaBenoist for sharing something so indescribably painful & personal in order to maybe help someone else who's suffering from IPV (Intimate Partner Violence). Pls watch her video/share it https://t.co/BCAmIZovIE If you need help call 800-799-SAFE https://t.co/27QZJvhTiO

— Elizabeth Tulloch (@BitsieTulloch) November 27, 2019
The strength it took to share this. We stand with you Melissa! ❤️

— Echo Kellum (@EchoK) November 28, 2019
You're an amazing woman. I love you, lady.

— Sam Witwer (@SamWitwer) November 28, 2019
So proud of @MelissaBenoist ❤️ https://t.co/qCFW2nIpFM

— iqbal theba (@iqbaltheba) November 28, 2019
Thank you for sharing your story. You are brave beyond measure and your words give strength and hope to so many women. Sending you so much love sister https://t.co/uLJt5oFhEt

— Caity Lotz (@caitylotz) November 28, 2019
I stand on awe of @MelissaBenoist's courage. If you can, donate to @ndvh and:

"Check on your strong friends.
Check on your quiet friends.
Check on your "happy" friends.
Check on your creative friends.
Check on each other."
—@iamlaurenp https://t.co/k1zcJoHUx5

— Natasha Rothwell (@natasharothwell) November 28, 2019
i adore you, melissa benoist. you are strong and beautiful and loved.

— rachel zegler (@rachelzegler) November 27, 2019
melissa, i am so proud of you. there is so much courage in sharing your story, and you chose to take your story and share it with the world. we see your strength. thank you for sharing♥️

— Laurie Hernandez (@LaurieHernandez) November 28, 2019
You just saved someone's life today. I'm certain of it. Thank you for using your voice for the powers of good.

— Julie Plec (@julieplec) November 28, 2019
If it can happen to #SUPERGIRL it can happen to anyone. So proud of @MelissaBenoist for speaking about her experience. #IPV

— Ali Adler (@AliAdler) November 27, 2019
Like Just Jared Jr. on FB