Fri, 29 November 2019 at 4:00 pm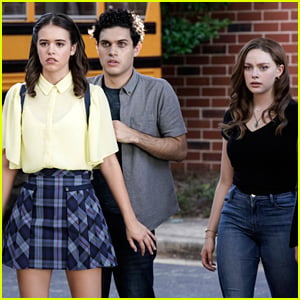 The love triangle between Hope, Landon and Josie on Legacies is about to become even more complicated than it once was, Danielle Rose Russell reveals.
In her interview with TV Guide, the 20-year-old actress opened up about the relationship between the three characters, now that they have their memories back and know exactly who Hope is.
"I just think that he doesn't know what to do," Danielle shared about Landon's (Aria Shahghasemi) shock of the situation. "He wants to do right by everyone, including Josie, and by himself. So I think he's mixed in how to go about the way that he feels because he definitely cares for Josie as well, but he definitely knows that he's in love with Hope too."
"I think that she's [Hope] sacred because she doesn't know which direction he's going to go in," Danielle adds. "And she can't expect him [to choose her] or blame him if he chooses something that makes her unhappy. So I think it's really hard for her to try to disconnect and just let him decide."
She added that Josie, played by Kaylee Bryant, is an important part of everything too.
"I think it's gonna take some time for them to reach a good point in their relationship," Danielle says. "I think that it's going to be really hard for both people to fully be able to accept all the things that have happened. But it doesn't mean it can't happen."
Legacies airs Thursdays @ 9PM ET/PT on The CW.
Like Just Jared Jr. on FB