Fri, 29 November 2019 at 5:06 pm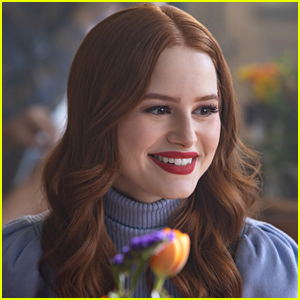 If you haven't noticed, Cheryl Blossom is changing up her beauty look, but in real small ways on Riverdale.
Actress Madelaine Petsch opened up in a new interview with Allure magazine about Cheryl's beauty evolution, admitting that they are "experimenting a little bit more with eye makeup."
"I used to do the same eye look most of the year, and now, according to my outfit and the mood that Cheryl's in, I'll kind of change it accordingly, which is really fun," Madelaine says.
The reason for the subtle changes? It's all because of Cheryl's outlook on life.
"[Cheryl's] in a good place — at least she thinks she's in a good place, mentally; in reality, we all know she's not — but she's playing with makeup; she's happy. I think that's where all of that stems from, changing things up a little bit," she says. "And she's got a good relationship. So now she's like, 'My girlfriend's not just going to break up with me because I changed my eyeliner,' or whatever."
Madelaine also opened up about the shade of red lipstick that Cheryl wears and why they keep the brand under lock and key.
"It's kind of just like our little secret on set," she shared. "We do like to play around a lot, but it's something that we've always kept secret, for some reason, and now it's kind of like a running theme."
Riverdale airs Wednesdays on The CW.
Like Just Jared Jr. on FB