Thu, 05 December 2019 at 2:32 pm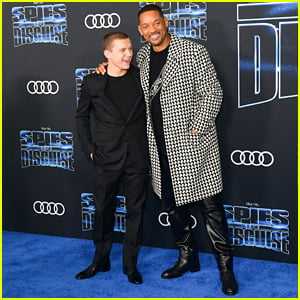 Tom Holland and Will Smith made an entire movie together, and just met each other for the first time!
The Spies in Disguise co-stars both revealed they met for the first time by doing an escape room while at the premiere of the film at El Capitan Theatre on Wednesday night (December 4).
"It was kind of crazy, you know, because we did an escape room together. I've been a big Will Smith fan for a long time, and then all of a sudden I was locked in a room with him, trying to get us to escape. And I don't know if I wanted to escape, I was enjoying myself in there with Will Smith," Tom said to Variety.
"It's really weird that we're in a movie together that's coming out. We had never actually been in the same room together. That's the beauty of modern technology. He did most of his stuff in New York and I did mine in L.A., so I thought it would be a nice way for us to get to know one another, we do an escape room to see if we really have chemistry," Will said.
"We were having a really good time in there. And it's funny, when we did get out, it was a little anticlimactic. It was a little sad that our time together was done."
"I did most of this film in my pajamas. I would just show up in my pajamas, t-shirt and spend seven hours in a recording booth," Tom added.
Tom also discussed his highly anticipated return to the role of Spider-Man following internal drama, and eventual success.
"Well, I can't say that I negotiated it back together. I think I was the spark in a conversation that happened between Tom and Bob [Iger] and, you know, I just was really honored that I was able to be a part of that process. And ultimately the outcome was a fantastic one. And the future for Spider-Man is looking brighter than ever."
Watch Tom Holland and Will Smith do interviews with Variety and Entertainment Weekly inside…
Like Just Jared Jr. on FB