Thu, 12 December 2019 at 12:34 am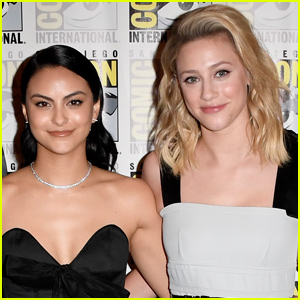 Lili Reinhart and Camila Mendes are thinking about the end of Riverdale.
The co-stars spoke out about what they hope happens on the show in the future and how they think the series will wrap.
"I don't know! I mean, this is senior year. When season four wraps, I'm pretty sure the kids will have graduated, so as far as where it goes from here, I don't know. I think there's opportunities for the kids to leave Riverdale, but there's also opportunities for them to stay and I think there's a lot of unfinished business for a lot of them," Lili told ET.
She added, "It seems like they might all feel the need to stay and take care of things with their family or their businesses. You know, obviously, Veronica has, like, 12 businesses that she's running. I think Betty probably wants to stay close to her mom, at least for a little while. They've got some stuff to figure out. I feel like they're all gonna take a break year – a gap year – and just chill for a minute."
Meanwhile, Camila is hoping that the cast goes off to college.
"I don't want the kids to be in high school forever. I think Riverdale is very much a show about the cycle of life, and things growing up, and all of that. So I think it'd be really cool to see them go off to college and grow up and see what they make out of their lives," Camila said.
She continued, "And maybe the show ends with someone having a kid. You know, who knows? I'm just pitching things. I'm just hoping our showrunner will…I get the craziest fan fiction!"
READ MORE: Find out what Camila Mendes had to say about her "stressful" Riverdale audition
Like Just Jared Jr. on FB