Fri, 13 December 2019 at 5:01 pm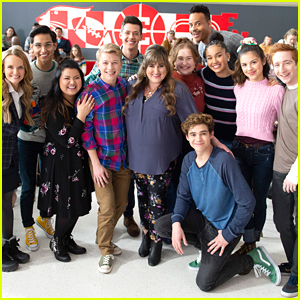 The cast of High School Musical: The Musical: The Series pose for a group photo with an original HSM cast member!
At the center of the photo is none other than Kaycee Stroh, who played dance-loving bookworm Martha Cox in the original film trilogy. Check her out in the "Status Quo" number right here.
Kaycee made a surprise cameo at the end of the "Truth, Justice and Songs In Our Key" musical number in episode six, which was released today (December 13).
"Remember that whole "No original cast" thang?! Well… RULES WERE MEANT TO BE BROKEN PEOPLE 🤣 Hope you are watching #hsmtmts if not please check in on this weeks episode 6. Love you forever #wildcats 🎉," she wrote on Instagram.
"I was approached in early April to make a special cameo appearance on the new series. It's a delicate thing revisiting something that fans consider 'a classic' and 'untouchable,' but after reading through the script, I knew that this was finally the right concept that the die-hard Wildcat fans might be more open to," Kaycee shared with ET. "I had chills and wrote my manager immediately."
"When I walked back into East High, I was overcome with emotions. So many of my formative years were spent working there in those halls, my big break came over there on that cafeteria table, lots of blood sweat and tears (literally) on that stage!" she added. "I actually had to pause and take a moment to collect myself."
"[Creator] Tim Federle, [the] writer [and] producer, and the new cast bring a whole new love and light to the series but the overall message remains the same. Although we are all so different, we can still love and appreciate each other. 'We're all in this together,' right?!" Kaycee continued. "I believe that message is timeless. I am happy to pass the baton on to these new characters, and I have complete trust that they will continue to teach a new generation how wonderful and important that message truly is!"
Like Just Jared Jr. on FB