Tue, 31 December 2019 at 4:02 pm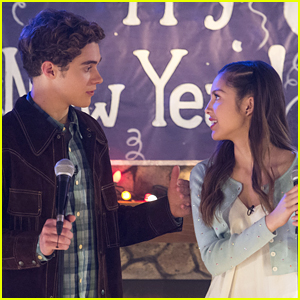 High School Musical: The Musical: The Series co-stars Joshua Bassett and Olivia Rodrigo got to write an original song together for the show!
The two stars recently opened up about about getting the chance to co-write "Just For A Moment" for the upcoming ninth episode.
"We were all in the East High Theater and Tim Federle, the creator of the show, approached Olivia and I and said, 'Hey, I know this is a wild idea — it's very early in the process — but there might be a slot where you two could submit a song. There are no promises, but I just want to plant the seed in your head now,'" Joshua told ET. "So Olivia and I literally turned around that minute, I grabbed my guitar, we sat down and we just started pumping out ideas. Writing it down, everything we could think of and then we'd come back every five minutes and say, 'I thought of this.'"
"We got the news a few weeks later [that it was chosen], which was just the most surreal thing in the world," he added. "When it actually happened, I think it was kind of a shock to both of us, but it was really neat. I think it was both of our first times being legitimized as songwriters professionally, because we've been both writing on our own. And to actually have that on paper, to be able to prove that we did that was just a dream come true."
"It was strange because we wrote the song before we filmed episode nine. We didn't totally know what was going on with the characters when we wrote it, but our showrunner, creator Tim Federle walked us through what was going on with the characters. It's a really special experience because to write a song for the characters is amazing, because I feel like nobody is going to know the character as well as we do. No one's going to know Ricky like Josh knows Ricky, and no one's going to know Nini like I know Nini," Olivia added. "We were there for their creation, we make them who they are and we're literally living their lives all the time."
"To get to write from that perspective was really great, and I think the song turned out better because we had that background knowledge," she went on. "I'm so inspired by Josh and I think he's such a great songwriter, and to co-write with him was really a wonderful experience. It's something I wouldn't trade for the world."
Check out a sneak peek at "Just For a Moment" on ET now!
Like Just Jared Jr. on FB