Sat, 04 January 2020 at 12:53 pm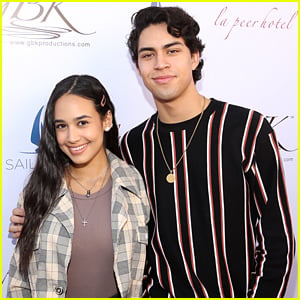 Emily Tosta is opening up about her new Party of Five reboot and the important message it sends about activism.
The actress and model spilled all in a new interview with People en Espanol.
On her character, Lucia, Emily said, "She always played by the rules until her parents got deported, and that changed her so much. That changed her perspective toward life. It changed the way that she viewed the people around her, the way that she saw school and her surroundings and her environment, and she developed this anger toward the world."
"We're humanizing a political subject that is something that the screen needs more of," she continued. "We're talking about something that's very realistic. It's happening right now in this country, it's very timely. There are families that are being taken away from each other … and it's something that I haven't seen much of on screen. It's such a blessing and an honor that we get to portray these stories."
"I know this sounds a little cliché, but when you leave this world, the things you take with you aren't how much money you made, how successful you were, what kind of car you drove, or what kind of house you had," Emily added. "The thing that matters is what you leave behind, and the best way to leave a good legacy behind is to help others and be kind, and to use whatever resources you have to make the world a better place."
The Party of Five reboot premieres on January 8 on Freeform. Watch a promo!
Pictured: Emily Tosta and her co-star Niko Guardado at the GBK and La Peer Pre-Globes Luxury Lounge on Friday (January 3) in Los Angeles.
READ MORE: Emily Tosta Reacts To Fan Reactions For 'Party of Five' Reboot
Like Just Jared Jr. on FB