Wed, 08 January 2020 at 9:54 am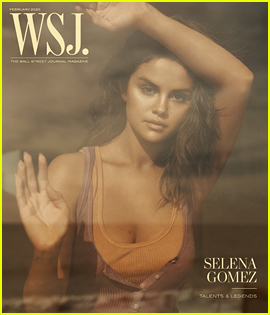 Selena Gomez is on the cover of WSJ. Magazine's February Talents and Legends Issue out on newsstands Saturday, January 18.
The 27-year-old singer and actress spoke about her friendship with Taylor Swift, among other topics. See what she had to share…
Taylor on her friendship with Selena: "I knew from when I met her I would always have her back. In my life, I have the ability to forgive people who have hurt me. But I don't know if I can forgive someone who hurts her."
Selena on her friendship with Taylor: "We clicked instantly and, man, that was my girl. We both went through s— at the same time. She taught me a lot about how I should be treated at a young age. There's so much of my friendship with Taylor that people don't know about because we don't necessarily feel the need to post about everything we do. She has showed up for me in ways that I would have never expected. Flown in because I was hurt and was going through something. Stuff that was going on with my family. It's been proven year after year and in every moment of my life that she is one of my best friends in the world. We don't agree on everything, but we respect each other with everything."
On mental illness: "I feel like I was supposed to go through everything I've gone through. I had low self-esteem, and that's something I work on continuously. But I feel so empowered because I've gained so much knowledge about what was going on mentally. My highs were really high, and my lows would take me out for weeks at a time. I found out I do suffer from mental health issues. And, honestly, that was such a relief. I realized that there was a way to get help and to find people that you trust. I got on the right medication, and my life has been completely changed."
For more from Selena Gomez, visit WSJ. Magazine.
Like Just Jared Jr. on FB