Mon, 13 January 2020 at 1:24 pm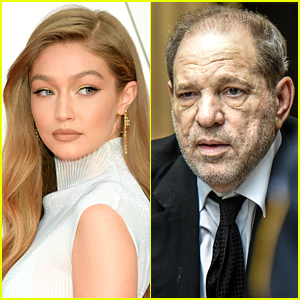 Last week, Gigi Hadid said her "dream came true" by being summoned for jury duty. Today, she was called in to potentially serve on the Harvey Weinstein trial.
The disgraced movie producer and studio exec is facing five counts of rape and sexual assault. Over 100 New Yorkers were questioned about their ability to be impartial in the case and Gigi reportedly said she could be impartial.
New York Daily News reporter Molly Crane-Newman says that Gigi was seated just 20 feet away from Weinstein while being questioned by the judge.
Gigi confirmed to the judge that she has previously met Weinstein and potential witness Salma Hayek, but felt she "could judge the case impartially." She said, "I think I'm still able to keep an open mind on the facts."
On January 5, Gigi posted to her Instagram Stories about how her "dream came true" by being called to jury duty.
"This week a dream came true. I've been summoned for jury duty, ya'll. (Not sure why this shocked me so much?!) I'd live to thank the State of New York. My mom and @vesperw seemed concerned by my genuine excitement… I realize it will prob suck. Let me dream," Gigi wrote. You can seen the screencap in the gallery.
Hadid, seated about 20 feet away from Weinstein, told Judge Burke that she'd met the defendant before but still felt she could judge the case impartially. She also said that she'd met potential witness Salma Hayek.

"I think I'm still able to keep an open mind on the facts."

— Molly Crane-Newman (@molcranenewman) January 13, 2020
Like Just Jared Jr. on FB