Thu, 16 January 2020 at 12:38 pm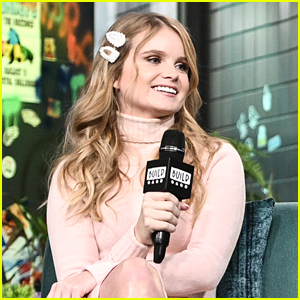 Kayla Cromer looks lovely in a pink velvet dress during her appearance on Build Series with her Everything's Gonna Be Okay cast in New York City on Wednesday afternoon (January 15).
The up and coming actress, Josh Thomas, Maeve Press and Adam Faison stopped by the show to chat about the new Freeform series.
"Matilda is learning to navigate life in a neurotypical world. She is inexperienced in dating and relationships. She is more open with her autism, where I was still learning to advocate for myself," Kayla spoke to The Hill about her character on the series. "She gets overwhelmed in situations with crowds and noises, or confusing moments." By contrast, "I wasn't coddled, I was put into situations and learned to adapt."
Despite their differences, Kayla says, they're both "quirky and hilarious, without knowing it."
Kayla also shared that her different way of thinking has helped her give the best performance possible.
"Being on the spectrum and having other learning differences, I am used to working harder and have a great drive to succeed. I interpret things differently, which helps with analyzing scripts, engulfing myself into roles, to achieve realism," she shared. "[It] also drives me to make strong choices."
Everything's Gonna Be Okay premieres TONIGHT on Freeform. Stay tuned for a sneak peek!
Like Just Jared Jr. on FB