Mon, 20 January 2020 at 1:00 pm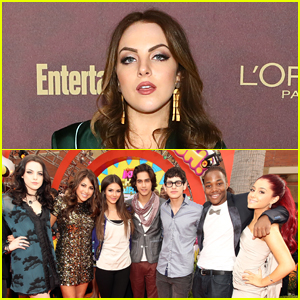 Liz Gillies is speaking out on a Victorious reboot and the possibility of it continuing again in the future.
During a new interview on the Zach Sang Show, the 26-year-old Dynasty actress was asked if a reboot of the show would be good, not that if it's going to happen and she simply replied with a no.
"Well, it's like one of those things where if they used the same kind of sets, and they got the same people to do it, then I'd like it," Liz added. "If they're getting all new people to do it, and they're just using that name, and they're kind of just completely re-branding it, okay. If it's good, it's good. That's all I'm going to say. If it's done poorly, then I'll say, 'I told you so," and if it's done well then I'll be like, 'Wow, hats off!'"
Zach Sang then asked if she thought it deserved closure, because it didn't get that, and she quickly said yes.
"That's something that I always said I would clear my schedule for. No matter how much work I'm doing, or how inconvenient it would be to get it together, that's something I feel like is really important, and we all believe that," Liz said.
"A Victorious movie? Yeah, I think that would be amazing. I want to do it, I really want to do it. We all want to do it," she added on the possibility of a movie. "I can't see why anyone would say no. Everyone's down [for a movie], and if they're not, they suck. If you're the one person in the cast who's like, 'I don't want to do the thing,' f–k you."
"Everyone wants to do it," she reaffirmed. "We're all buddies. We want to do this. The fans deserve this. I don't know when it's going to happen, we're so old, [laughs]."
"They'll take it whenever though, even if we're all in wheelchairs," Liz said. "And they should, it was so unresolved. It's so big now. 10 year anniversary, it's time."
Like Just Jared Jr. on FB