Wed, 12 February 2020 at 3:48 pm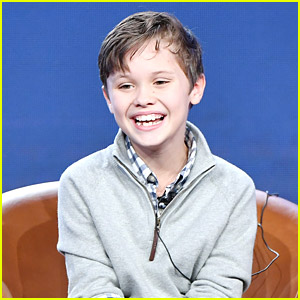 Jack Stanton is stealing our hearts on the new Fox show Outmatched!
The young actor plays the youngest brother Marc, who is a certified genius (like his siblings) and a music prodigy.
Jack actually began to learn how to play piano specifically for his role, and was the only actor to audition without holding a script – he memorized all of the lines, including four long paragraphs full of difficult words fit for a genius.
He not only portrays a young genius on TV, but he's a bit of a tech genius in real life and has even created multiple video games!
JJJ got to know Jack recently and learned more about his love for visual effects, his favorite foods, and who his favorite actor is.
Be sure to catch Jack on Outmatched, every Thursday night at 8:30/7:30c pm Fox!
Click inside for 10 Fun Facts about Jack Stanton…
When I was five years old, my two sisters auditioned for a talent agency and I tagged along on a whim. My sisters were not accepted, but I was signed immediately. I had performed a commercial, and then surprised them with a solo from Phantom of the Opera and talked about my sister's dating life.
I am very active and love parkour, skateboarding, snowboarding, skiing, and going to trampoline parks with my dad. My favorite thing is doing flips. I would love to be in an action movie and be able to do my own stunts. I often drives my mom crazy by seeing how high I can climb.
Coding is something I loves to do in my down time. I like to code Java and C++ as well as Roblox coding.
I love doing VFX and editing with 3D motion capture and 3D VFX. I also love practical effects, or PFX. I got a microphone for Christmas to do sound design. My family often has to tell me to stop ruining a movie or television show by critiquing effects in a scene.
I could easily live on spaghetti and pizza.
I love dogs. I have a hard time going on a walk without stopping to interact with each dog that goes by.
As of today, if I could not act, I would be an astronaut. I love space and enjoy learning all the facts I can on astronaut life.
I am a fifth generation native Floridian. I miss a beach with warm water, season passes to Disney World, and thunderstorms.
When I was four years old I broke my collarbone acting out Star Wars. I came to the part where Darth Vader arrests Princess Leia, and of course was playing both roles. I used my sister's hair tie to bind my wrists together, which kept me from bracing myself when I rolled off the couch.
My favorite actor is Grant Gustin, who plays The Flash on The CW. My mom and I have a tradition where we watch every episode together. One of my dreams is to guest star on The Flash.
Like Just Jared Jr. on FB