Wed, 19 February 2020 at 4:39 pm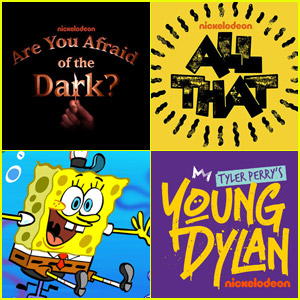 Nickelodeon has unveiled it's lineup of upcoming shows!
The network revealed the series that have been picked up for more episodes, and which ones will be making their debut.
Returning shows include Are You Afraid of the Dark?, All That, Top Elf, The Casagrandes, Blues Clues & You!, PAW Patrol, Blaze and the Monster Machines, and Bubblie Guppies.
The series that will be soon making their debut's on Nickelodeon are The Astronauts, Big Nate, Kamp Koral: SpongeBob's Under Years, Tyler Perry's Young Dylan, Danger Force, and TV movie The Loud House: A Very Loud Christmas!
Click inside to find out all about the new shows…
The Astronauts: The spaceship Odyssey II is set to launch to investigate a mysterious asteroid passing by Earth. A group of kids who gathered to watch the lift-off sneak onto the empty ship with their parent's security clearance before the event, and accidentally initiate the launch sequence. Blasting off into space with no proper training, a malfunctioning onboard AI system, and their parents watching from Earth, the kids embark on a journey of survival using only their smarts and friendship as tools.
Big Nate: Based off of the children's books, the series will feature brand-new original storylines centered on Nate and his mischievous shenanigans that usually result in disaster, detention or both. Whether trying to convince everyone that their school is haunted to get out of a test, or accidentally setting the pet iguana free in the school's air ducts, Nate and his friends cause trouble everywhere–and must keep their cool before they get caught.
Kamp Koral: SpongeBob's Under Years: In the first ever SpongeBob SquarePants spinoff, SpongeBob and his pals spend the summer building underwater campfires, catching wild jellyfish, and swimming in Lake Yuckymuck at the craziest camp in the kelp forest, Kamp Koral.
Tyler Perry's Young Dylan: Dylan's grandmother Viola realizes that raising her grandson is too much to take on, so she decides to send him to live indefinitely with her affluent son Myles Wilson, his wife Yasmine and their two kids Rebecca and Charlie. Suddenly, the Wilson family household needs to adapt as lifestyles clash between rising hip-hop star Young Dylan and his straight-laced cousins. From Dylan giving Rebecca and Charlie lessons in "swag" and street smarts, to learning that even rappers have rules in the Wilson house, the series follows the hilarious hijinks this family faces as they try to get on the same beat.
The Loud House: A Very Loud Christmas!: Lincoln is gearing up for the ultimate Christmas, until he finds out that most of his sisters have plans to be elsewhere for the big day. Determined to remind his family that they all need to be together, Lincoln and his best friend Clyde embark on a mission to sabotage their plans and preserve the family's holiday traditions.
Like Just Jared Jr. on FB