Mon, 02 March 2020 at 2:53 pm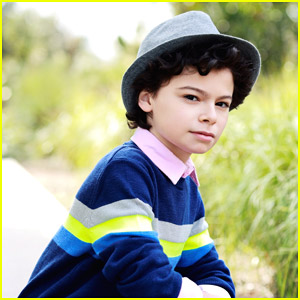 Raphael Alejandro is so happy to be returning to Camp Kikiwaka on Bunk'd!
The 12-year-old actor stars as Matteo on the Disney Channel series, a cautious kid who can find danger in any situation and who would rather not be at camp.
JJJ recently caught up Raphael and he told us how excited he is that the show was picked up for another season.
"I feel proud of the work we are doing in Season 4, and when I heard the news of a Season 5, I was so happy that now I can continue working hard on this show and inspire all the fans that have supported us and helped make Season 5 a reality," he dished.
Be sure to catch him on new episodes of Bunk'd, Fridays at 8pm EST on Disney Channel, and in the upcoming Jungle Cruise movie, out this summer!
We also got the scoop on 10 Fun Facts about Raphael, including that he's a huge shoe lover! Check out his fun facts inside…
1. I speak four languages: Portuguese, Spanish, French and English, and I would love to learn Italian to add to my arsenal of Romantic Languages.
2. When I was 8, I learned how to swim in less than 3 weeks because I was required to swim in an Olympic swimming pool for one of my scenes in the movie "How to be a Latin Lover".
3. I love learning about facts and reading biographies. One of my favorite biographies is about Albert Einstein.
4. I learned a little bit of ASL on my current show Bunk'd. A girl that is deaf starred in one episode of Season 4 and in my scenes, I acted as her translator.
5. I once dove into a slip & slide of oatmeal for my show Bunk'd and it was surprisingly soothing.
6. I am a big fan of action-adventure video games, particularly The Legends of Zelda franchise, and my favorite one being "Majora's Mask".
7. I love the Marvel Universe, and my favorite superhero is Spider-man. I would love to play Spider-man in a live action movie in the future.
8. I enjoy writing essays, especially on subjects I'm passionate about such as the environment, equality, and animal rights.
9. One of my aspirations academically is to become an environmental lawyer, and create my own non-profit law firm.
10. Believe it or not, I love shoes and I am a huge Sneakerhead. I am an Air Jordan collector.
Like Just Jared Jr. on FB