Thu, 05 March 2020 at 3:17 pm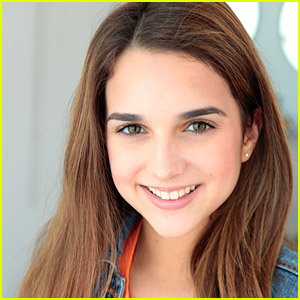 Valeria Jauregui is an actress on the rise, and her latest role is really lifting her up!
The young star has a recurring role on Fox's Deputy as Maggie Hollister, the daughter to Stephen Dorff's Sheriff Bill Hollister. She's also been seen in commercials for Domino's, Ford Motor Company, and more.
Valeria is a Texan native and is bilingual. She's also a singer and model, having done the Macy's Fashion Show and the Parker Trade Show.
Just Jared Jr got to know the actress and learned even more about her, including that she can rap the entire Hamilton soundtrack. What?!
Be sure to tune in and catch Valeria on Deputy, with new episodes Thursdays at 9/8c on Fox!
Click inside for 10 Fun Facts about Valeria Jauregui…
I carry a small journal with me everywhere I go in case I see or feel anything inspirational for songwriting or acting observation references.
I've watched all ten seasons of Friends probably more than 10 times and can even recite most of the episodes from watching it so much.
I was a gymnast for 6 years and can still hold a handstand for a minute and tumble. I am a dancer now and have been for about 7 years!
I can rap the entire Hamilton album from memory.
I love Star Wars, Lord of the Rings, Indiana Jones, and Harry Potter.
I memorized Alphabet Aerobics after watching Daniel Radcliffe do it and now it's my party trick.
I have a quote book where I write down anything stupid my friends say and look back at it every now and then to enjoy a good laugh.
I had a bunny when I was younger and I named her "Bunny" because my 7 year old brain couldn't come up with something more creative.
My first language is actually Spanish. I grew up in a household where we weren't allowed to speak English, so I only speak Spanish with my family and we love it.
I'm a singer and had an obsession with Annie when I was younger. I blame her for my love for the arts.
Like Just Jared Jr. on FB