Fri, 06 March 2020 at 12:26 am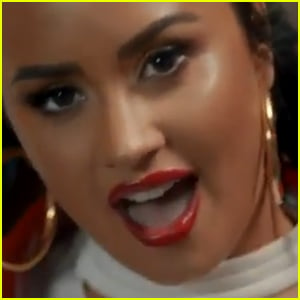 Demi Lovato's new song and video for "I Love Me" is out NOW!
The "Stone Cold" singer shared the video with fans on Friday (March 6).
Demi teased on Instagram, "Some of my favorite people/closest friends made a guest appearance in my music video that's premiering TONIGHT at 9pm PT / 12am ET and I'll be chatting with you 😘you ready??? #ILoveMe."
The video includes various references to her past, showcasing moments that have been a part of her journey to finding self-love.
"I Love Me" is seemingly the first single from Demi's upcoming seventh album, which has not yet been announced.
"This track is all about loving yourself. You know?" Demi told New Music Daily on Apple Music. "It's, it's obviously it's called I Love Me. So it's (laughs) not hard to figure that one out, but- um, but it is. It's an anthem, and it, it discusses, you know, in the, in the beginning of the song, it talks about, and the second verse as well, but it talks about how hard we are on ourselves and this, the negative self-talk. You know, how easily we can listen to that. But when is loving yourself gonna be enough?"
"I said in my song, 'Mine's the only heart I'm gonna have for life,'" she added. "We really are all we have. At the end of the day when we enter this world and when we leave this world, our souls are all we have. It's important to respect them, treat our bodies like temples, and love ourselves as much as possible."
Watch Demi's "I Love Me" Music video now! You can also download the track on Apple Music.
ICYMI, Demi Lovato recently opened up about how her life was really controlled by her previous team.

Demi Lovato – I Love Me
Click inside to read the lyrics…
Like Just Jared Jr. on FB