Sun, 08 March 2020 at 6:08 pm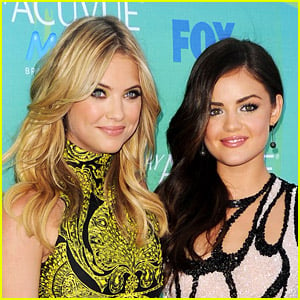 Lucy Hale recently opened up about how she and Ashley Benson met!
The Pretty Little Liars co-stars met long before they were on a show together, and it was all because of one of the Big Time Rush guys.
"We met actually on Myspace. I was 15. We had mutual friends in common, I didn't randomly find her," Lucy shared in a WIRED video. "Kendall Schmidt, who was on Big Time Rush, this Nickelodeon show, he was the linking factor. I saw that he was friends with her and we kind of became friends through him. He thought we would get along, and he was right."
"But we became Myspace friends, and then our first hang out was at Disneyland," she added. "We were like super, super tight when we were teenagers and then kind of lost touch. And then Pretty Little Liars brought us back together."
"But, we met on MySpace. It's really weird, actually," Lucy concluded.
Pictured inside: Lucy out and about in a black ball cap on Saturday (March 7) in Studio City, Calif.
Like Just Jared Jr. on FB