Fri, 20 March 2020 at 5:00 pm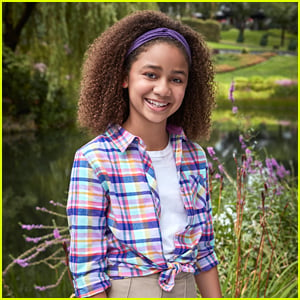 Just Jared Jr is SO excited to bring you the very first look at Izabela Rose as Nory Boxwood Horace in Upside-Down Magic!!
The new Disney Channel Original Movie is set to premiere this summer and also stars Siena Agudong, Kyle Howard, Elie Samouhi, Alison Fernandez and Max Torina.
Based off of the book series of the same name, 13-year-old Nory Boxwood Horace (Rose) and her best friend Reina Carvajal (Agudong) enter the Sage Academy for Magical Studies, where Nory's wonky magic and proclivity for turning into a "Dritten" – half-kitten, half-dragon – lands her in a class for those with Upside-Down Magic, otherwise known as UDM.
While many believe that the UDM's unconventional powers make them susceptible to dangerous and evil "shadow magic," Nory and her fellow UDM classmates set out to prove that Upside-Down Magic beats right-side-up.
The Upside-Down Magic teaser will premiere on Disney Channel TONIGHT (March 20) during the Descendants Remix Dance Party: A Disney Channel Movie Event, premiering tonight at 7:30 p.m. ET/PT!
Like Just Jared Jr. on FB