Mon, 23 March 2020 at 4:00 pm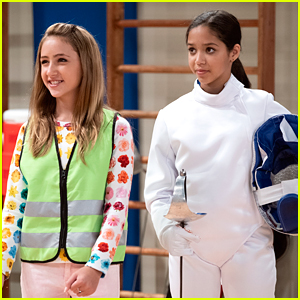 Sydney To The Max season two is here and it's kicking off with a bang!
The Disney Channel series returns with five all new episodes, one each day this week.
Kicking off TONIGHT (March 23), in "Father of The Bride", Sydney is excited when she makes the school's first girls fencing team. But when she learns her dad helped Coach Carlock, Sydney fears she may have gotten on the team for the wrong reason.
Eric Allan Kramer from Good Luck Charlie returns to the Disney Channel to guest star as Coach Carlock!!
Check out a sneak peek now and tune in TONIGHT (March 23) and all week at 8pm ET/PT on Disney Channel.
Just Jared Jr also spoke with series stars Ruth Righi and Ava Kolker about the premiere episode. Click inside to see what they had to say…
Just Jared Jr: Do you play sports in real life? What do you enjoy about that sport(s)?
Ruth Righi: "In real life I love to dance and I used to play basketball and soccer. Learning a bit of fencing for this episode was really interesting and fun because I had never even thought about doing it before. After seeing how cool it is, I wish that I had known more about it."
Ava Kolker: "I played soccer most of my life and really loved it. I love the team spirit where everyone works together towards a common goal. I also love the workout, being competitive and pushing yourself to be the best you can be for the team."
JJJ: What was your experience like at your first school dance?
RR: "My first school dance was when I just started middle school. My friends and I ate brownies and cupcakes, then we did our hair and makeup together. We danced and sung our hearts out to all of our favorite songs and had the best night."
AK: "I've been to a father daughter dance. I always love spending time with my dad, so it was fun."
JJJ: What do you hope viewers take away from this episode?
RR: "I really hope viewers take away a few things from this episode. One being that it is important to do things the right way even if you don't get what you want or don't end up on top. Keeping a good moral compass will always benefit you in the long run. Another concept that I want viewers to take away from this episode, is that hard work and dedication pays off. "
Like Just Jared Jr. on FB