Fri, 27 March 2020 at 5:39 pm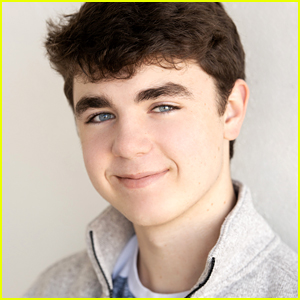 Collin Blackford was a standout in the latest Disney+ movie Stargirl!
The teen actor plays Benny Burrito in the flick, which stars Grace VanderWaal in the title role.
Speaking with JJJ, Collin revealed how many burritos he had to eat for the movie.
"I ate about 40 burritos, 6 hot dogs, popcorn, pizza and a huge bag of chips while filming Stargirl," he said. "I even had a spit bucket for the burrito scenes!"
We got to know more about Collin with 10 Fun Facts and he is a really fascinating guy!
Be sure to catch Collin Blackford in Stargirl, now streaming on Disney+.
Click inside for Collin's fun facts…
I'm currently a high school Junior at D'Evelyn Jr/Sr High School in Denver, Colorado – a rigorous college prep public school. I was a sophomore when I filmed Stargirl for a month and a half and maintained a 4.0 GPA. My favorite subject is Calculus.
I'm a shooting guard for my school's basketball team (Go, Jaguars!), and a setter for the school's Volleyball team. My favorite basketball player is Lebron James, but my favorite team are the Denver Nuggets!
When I was 9 years old, I played Marc Antony in "Julius Caesar" in a production starring mostly older high school kids. I can still recite the "Friends Romans Countrymen" speech from Caesar's funeral, which you can watch me deliver here!
I studied acting with Patrick Sheridan at the Film Acting Academy of Denver until his tragic passing from Cancer in 2018. While he was alive, I helped him teach the adult classes – I was only 13.
I'm a huge Lord of the Rings fan! As a kid, I collected all of the Lego sets and Gimli is my favorite character.
I am good at card tricks and as a kid, I would spend hours on YouTube looking up tutorials! On set, Graham [Verchere] and I did a lot of card tricks for the cast. My favorite trick was "Two Card Monte" – a David Blaine trick.
In the 4th grade, I broke my arm by tripping over my shoelaces at a birthday party. The next day, I had to sing the National Anthem at a Colorado Rockies Game with my school wearing a big cast!
Bryan Cranston from Breaking Bad and Malcolm in the Middle is my favorite actor and those are two of my favorite shows ever!
I am partially ambidextrous – I'm right-handed, but I bat lefty. I first learned to golf left-handed, but then switched to right before playing on the High School Golf team my freshman year of high school. (I still putt left).
My favorite food is Jalapeno pizza with ranch dipping sauce.
Like Just Jared Jr. on FB