Sat, 11 April 2020 at 8:49 pm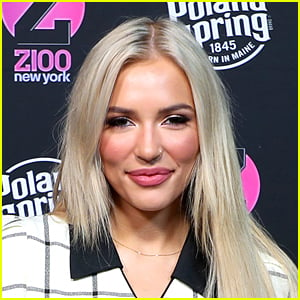 Lennon Stella has made a rather sad, but expected announcement.
The 20-year-old singer shared a note on Instagram about the postponement of her upcoming North American tour, which was set to start in May.
"There has been nothing I have looked forward to more than releasing my debut album and feeling the energy of the release while playing it live. However, as you may have expected, my upcoming tour has to be rescheduled," Lennon said. "My heart breaks at that statement. Please please know that I am getting info to you as soon as I am able to share it and hold onto your tickets as they'll be honored for the new shows."
In good news, Lennon also just dropped a brand new song, "Fear of Being Alone", from her debut album, along with the accompanying music video.
"AHHH ITS HERE ITS OUT IT IS NOW YOURS TO KEEP," she excitedly wrote on Instagram. "moved all the furniture out my living room, took everything off the walls and made this video with my amazing friend cece and my mom who dragged me across the floor for my glamour shot and then sat in the corner starting and stopping the projector and my boyfriend staying up till the wee hours of the morning helping lil ol cece carry and pack up all the lights she brought all by herself cause ~~social distancing~~ what a crazy time to be living in…. but honestly never been so proud of a music video ❤️ we made it happen with what we had n I love it a lot – hope you guys do too ❤️ GO LISTEN N WATCH N SHARE N STAY HOME XOXOXO"

Lennon Stella – 'Fear of Being Alone'
Like Just Jared Jr. on FB