Tue, 14 April 2020 at 2:05 pm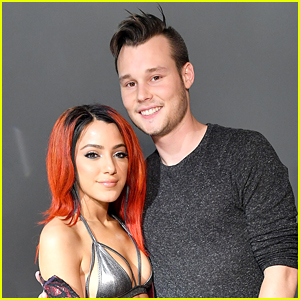 Niki DeMartino is opening up about her relationship with boyfriend Nate West.
The 24-year-old YouTuber took to Twitter to share about love and hardships.
"being super candid here- are my bf and I opposites? Hundred points symbol in some ways. did we know what we were getting involved w/ in the beginning no. do we struggle? yes. do we love eachother and choose eachother every single day? 10000% yes. adult things," she responded to a tweet.
"I don't open up abt my relationship bc nosey comments used to get to me," Niki added in response to "nosey people". "I see so many comments saying how incompatible we are & honestly, love is a feeling, yes, but it's also a choice. we may film our lives, yea, but we don't invite the camera behind closed doors, sooo"
ICYMI: Check out Niki and Nate in the trailer for Niki & Gabi Take Bahamas!
the beginning of when you start falling in love with someone is indescribable and half the reason you fight through the hard stuff is because you remember that time and know you couldn't fall for someone that way again… relationships are bittersweet.

— NIKI DEMAR (@nikidemar) April 13, 2020
being super candid here-
are my bf and I opposites? 💯 in some ways. did we know what we were getting involved w/ in the beginning no. do we struggle? yes. do we love eachother and choose eachother every single day? 10000% yes. adult things. https://t.co/PSQCV75Knw

— NIKI DEMAR (@nikidemar) April 13, 2020
I don't open up abt my relationship bc nosey comments used to get to me. I see so many comments saying how incompatible we are & honestly, love is a feeling, yes, but it's also a choice. we may film our lives, yea, but we don't invite the camera behind closed doors, sooo

— NIKI DEMAR (@nikidemar) April 13, 2020
Like Just Jared Jr. on FB