Wed, 15 April 2020 at 5:52 pm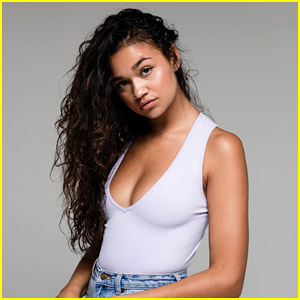 Outer Banks is the new Netflix show that you're totally going to be obsessed with and we caught up with cast members to learn more about them ahead of the premiere.
Madison Bailey plays Kiara and you likely know her from her work on The CW's Black Lightning. She also can be seen right now on the NBC series Council of Dads.
Here are 10 Fun Facts about Madison:
1. I'm not allergic to anything, and I've never broken a bone.
2. I didn't learn how to ride a bike until I was 12, but I started riding horses when I was 7.
3. At some point in my life I want to go off and stay at a monastery.
4. My last meal on earth would be green curry and a Thai tea.
5. When I was a preteen, I fell asleep to Legally Blonde every night for over a year. I think it accidentally and subconsciously played a huge part in my life lol.
6. I still have a baby tooth. (I'm 21)
7. When I was a kid, I had pet chickens that my mom let me keep in my room.
8. The 60s and 20s are my favorite fashion era.
9. If I could learn any instrument, it would be the violin.
10. I'm more scared of ants than spiders.
Outer Banks is streaming NOW on Netflix!
Like Just Jared Jr. on FB