Mon, 27 April 2020 at 1:47 pm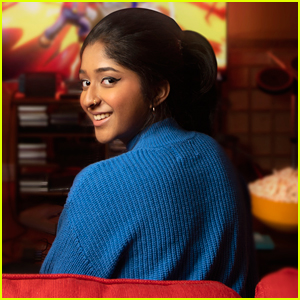 Maitreyi Ramakrishnan is a star in the making!
The young actress was picked from a huge open casting call to lead Mindy Kaling's new Netflix show Never Have I Ever.
Maitreyi stars as first-generation Indian American teenage girl named Devi, an overachieving high school sophomore who has a short fuse that gets her into difficult situations. CLICK HERE to watch the trailer!
Just Jared Jr got to know the newcomer with 10 Fun Facts, including what her Hogwarts house is, what instruments she plays, the craziest thing she's ever done and more.
Never Have I Ever is streaming on Netflix starting TODAY (April 27)!!
Click inside to read Maitreyi Ramakrishnan's 10 Fun Facts…
1. Do you play any instruments? I play piano and sing, and am now learning violin!
2. What's your Hogwarts house? Gryffindor
3. Dogs or cats? Both but definitely a dog lover! Have never met a dog I didn't like!
4. Craziest thing you've ever done? I'm a chief scout with Scouts Canada so I've camped outside in a tarp shelter in -14 degrees (6.8 Fahrenheit). It was so cold, a streak of my hair turned white.
5. One unique highschool experience? I led a student walk out with over 400 kids to protest the cuts to public education.
6. What's one travel must have? My Nintendo switch. I always bring that and Super Smash Bros. Ultimate, my favourite game of all time.
7. Favourite TV Show? The Office
8. Top three animated movies? Zootopia, Coco, Big Hero 6
9. Childhood dream job? Animator! I love to draw and create characters and I still do now!
10. Favourite superhero? Deadpool, antiheroes are more fun
Like Just Jared Jr. on FB