Fri, 08 May 2020 at 5:06 pm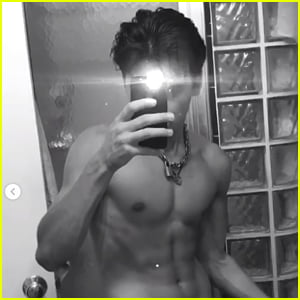 Isaak Presley is getting candid about struggling with body image insecurities in the past.
The 17-year-old actor and social star opened up in a new Instagram post about finally feeling empowered with his body.
"growing up i've always been the 'small' guy. Usually one of the shorter ones in my friend group, very skinny. For a long time, i've struggled with accepting me for me. But, recently i've been feeling empowered and i want to spread the message to you guys," Isaak shared. "No matter what you may look like, no matter how tall short big small you are, you're unique, you're beautiful, and you have something amazing to give to the world."
"Insecurities are humbling but let's not let them take over. You are not a body type, a race, a sexuality, you are a person and you are amazing," he continued. "Embrace yourself and let's all start learning to love ourselves a little more everyday. Love you guys and stay positive."
In case you missed it, Isaak recently shared that he has indeed joined TikTok house, The Clubhouse, and has been spending his quarantine time there.
Like Just Jared Jr. on FB