Wed, 13 May 2020 at 3:25 pm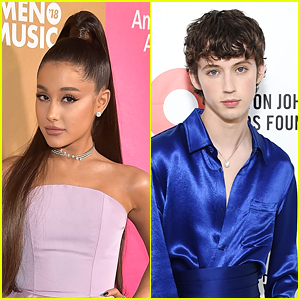 Ariana Grande is pleading Troye Sivan for a very specific birthday present!
The 26-year-old singer/actress opened up about working with the 24-year-old on his song "Dance To This" and a moment from the music video shoot she wants the world to see.
"He's got the perfect diva energy, I think. But I still feel like his presence is still approachable, and so fun, and so sweet. I love his humor. I love his posts. I love everything about his presence as an artist, and also in my life as a person. He's just one of the real ones. I really love him," Ariana told Apple Music's Zane Lowe.
"I'm always nervous when friends of mine, or artists that I admire, send me something and hope that I will get on it. And I'm like, 'Okay, I need to make sure that this is exactly what they wanted, or envisioned, or why they asked me,'" she continued. "So I've tried to just take my time with it and get it right. And I sent it to him and he was like, 'Oh my God, this is what I pictured.' And I was like, 'Yeah.'"
"But no, we had so much fun on the video. I really… What I want more than anything, for my birthday, Troye, if you're seeing this, is that one clip that didn't make it to the video. And you know what I'm talking about. It was the funniest moment of my life," Ariana added about her birthday wish. Her birthday is coming up next month on June 26th.
"I think we both were trying to twerk, or do something sexy. But the two of us… There was a table in front of us and we put our hands on the table and tried to like look back and we both fell out. He was like, 'Please, that can't make the cut.' I would give anything to see it, because I've never in my life, in my entire life, laughed harder. It was so funny."
Like Just Jared Jr. on FB