Wed, 20 May 2020 at 6:23 pm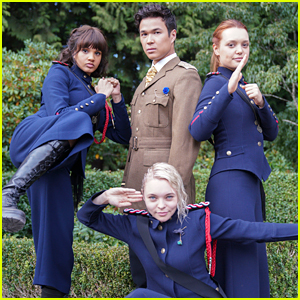 Tonight (May 20) is the season one finale of Motherland: Fort Salem!
In "Witchbomb", Raelle (Taylor Hickson), Abigail (Ashley Nicole Williams), and Tally (Jessica Sutton) graduate from Basic Training making Abigail more desperate than ever to prove her unit belongs in War College.
Alder (Lyne Renee) eyes the unit for a rescue mission while Anacostia (Demetria McKinney) and Scylla (Amalia Holm) find common ground.
Tune in to the season finale TONIGHT (May 20) at 9/8c on Freeform!
While the season is coming to a close, this isn't the end of Motherland: Fort Salem. It was just announced this week that the series has been picked up for a second season, set to air in 2021!
"WE'RE GOING FOR SEASON 2 !!!!!!!! and this comes on the eve of the finale …!!!!!!!!!!!!!!!!!!!!!!! I'm too emotional to be eloquent right now…we did it. you did it. to everyone who has shown such love and support for the show…you've blown us away and have moved me beyond words. greatest gratitude 💓💓💓💓💓💓💓💓💓💓💓💓," Jessica excitedly wrote on Instagram.
"here comes season 2! @motherlandtv so proud of everyone who made this happen. we were all moved to tears this morning. season 1 finale tomorrow night! thank you all!!," Taylor shared.
"mood because WE GOT PICKED UP FOR A SEASON FREAKING 2!!!!!!!!!!!!! ♥️ we are so blessed and beyond proud!! thank you, we love you all!!! @motherlandtv season 1 finale tomorrow, but don't worry switches, we're just getting started ;)" Ashley wrote on Instagram.
Like Just Jared Jr. on FB