Sat, 23 May 2020 at 6:30 pm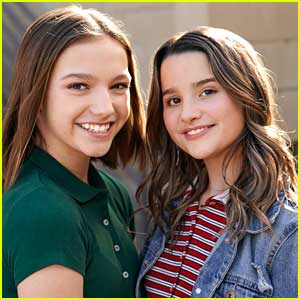 Group Chat with Annie and Jayden is just a couple of hours away from premiering on Nickelodeon!
The new limited series stars Annie LeBlanc and Jayden Bartels as co-hosts, along with Annie's sister Hayley.
Group Chat with Annie and Jayden will see the girls, along with fan-favorite stars, as they talk about the hottest trend topics of the week based on what kids are currently discussing across social media, play games and compete in challenges–all via video chat. Watch the first look here!
JJJ caught up with Annie, Jayden and Hayley and got the scoop on the new show, and if they would want to do more of it after quarantine.
"I'm just excited for people to see all the fun challenges that we do, and you also get to learn a lot about the special guests," Annie shared about Group Chat.
In case you missed it, Annie and Jayden will also be guest starring on All That tonight before the premiere of Group Chat. Check out a sneak peek here!
Tune in to a full hour of Annie and Jayden TONIGHT (May 23) with the new episode of All That at 9/8c and the series premiere of Group Chat with Annie and Jayden at 8:30, on Nickelodeon!
Click inside to read our full interview with Annie LeBlanc, Jayden Bartels and Hayley LeBlanc…
JJJ: What drew you to want to be part of the show?
Jayden: I wanted to be a part of Group Chat because I thought it would be a great way to connect with people while in quarantine. I thought it would be so much fun to do all the challenges and games, and I love interviewing and being a host, especially with Annie.
Annie: I will 100% agree with Jayden. I will say that this is a great way to connect with people. Everybody is super, super bored in quarantine and I'm excited to entertain them a little more, meet some cool people and chat with them. It's also really fun to see the different sides of production because right now we have a bunch of camera equipment and lighting here, and being behind the camera is a really cool and fun experience as well.
Hayley: Well, of course it was with my sister and it seemed like a really fun opportunity to do this with Jayden and Annie and their special guests, which is all totally up my alley. Being in quarantine I was getting a little bored, so this was perfect.
JJJ: What are you looking forward to the most about Group Chat?
Annie: I don't want to give anything away, but we did just film our first episode and it's coming out Saturday night. It's crazy and I'm so excited! I'm just excited for people to see all the fun challenges that we do, and you also get to learn a lot about the special guests. We chat about their lives and upcoming projects, and I think people are going to be really excited to see that.
Jayden: I'm really excited for the fans' reactions and their feedback and what they have to say, because it makes me so happy when they comment on the show and say like "oh this cheers me up," or "this made my day." That just makes me so happy and want to continue doing it.
Hayley: All the special guests. We've only filmed one episode and those guests were amazing, so I'm so excited for all the other people who are going to join us!
JJJ: Would you want to continue the series after quarantine is over?
Jayden: I'm pretty sure that after quarantine we're going to start our other Nickelodeon show, Side Hustle, but maybe if there's time it's a possibility. But I think that once quarantine is over our focus might be shifted.
Hayden: I would love to! I don't know what the future holds, but that sounds amazing because I love working with Annie and Jayden, and it's just a fun experience.
JJJ: How has starting this show changed your quarantine time stuck at home?
Annie: Starting the show has been super, super fun. Once again, mentioning the cameras, it's crazy to see that side of production and getting to experience that. I was also starting to get bored and this show's been very entertaining for me too.
Jayden: Yeah, same! The show's definitely taken up a lot of time, but in the best way because it's fun and it's been a great experience.
Hayley: I'm less bored of course. I've been doing so many fun things, especially with the challenges. It's all been keeping me way less bored!
JJJ: Is there a specific topic that you were dying to talk about when you found out about the show? Or one you're looking forward to?
Jayden: I'm not sure if for me there's a specific topic. I'm really just excited for all the games. I'm super competitive so I really enjoy doing games, and when there's a loser they might have to face a consequence so that's always fun. I think the main thing I'm excited for is the challenges and different games.
Annie: Yeah, I agree! I'm also really excited to kind of get closer with our guests, because you really get to learn a lot about them and their upcoming projects. You get to laugh with them, play games with them, and be competitive with them, and it's just a fun way to chat during quarantine and get closer to people you aren't really close with. That's definitely something I'm looking forward to!
Hayley: Well, we don't really know all that's going to happen, but I'm also really excited for all the challenges! I wish, and we'll probably never do this, but a musical chairs game would be so much fun to do on Group Chat! That'd be so great for everyone to have a chair, and music plays. It would just be so much fun!
JJJ: Is there anything else you want readers to know?
Annie: I really like Group Chat because it shows viewers that we want to be there for them and want to entertain them during quarantine. Also, that you can make anything be fun during quarantine and they're not alone, and hopefully they can look at this as a fun way to get to know more people in our lives and not see this quarantine as necessarily a bad thing. You get to watch Nickelodeon shows and have fun together!
Hayley: I cannot wait for everyone to see Group Chat and all the special guests and what the future holds! And they get to see me on Nickelodeon!
Like Just Jared Jr. on FB