Sat, 23 May 2020 at 4:49 pm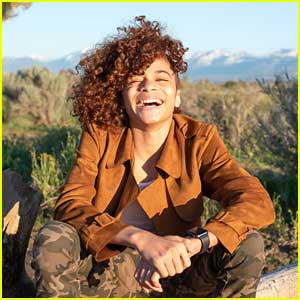 Jaylin Fletcher is taking over your TV screens!
The young actor can currently be seen in the new TNT show Snowpiercer as Miles, the son of Daveed Diggs' Layton.
The dystopian thriller series follows the passengers of the Snowpiercer, a train that makes its way around the world carrying 3,000 of the last remaining humans after earth freezes over.
Jaylin's character Miles is a young boy in the tail end of the train who uses his chance at an apprenticeship to gather information from the front to relay to his father Layton.
He can also be seen in the upcoming Netflix thriller series Clickbait, as Kai Brewer.
Clickbait follows multiple peoples' points of view as they provide clues to the suspect of a gruesome crime fueled by social media.
Kai Brewer is one of the children whose family is affected by this crime. A stubborn but energetic young man, Kai does all he can to help find the perpetrator.
You may recognize Jaylin from roles on Coop & Cami Ask The World on Disney Channel, and Let's Hear It for the Laurie Berkner Band on Nickelodeon.
JJJ got to know Jaylin with 10 Fun Facts, including one video game that he sneaks out to play when his mom goes to bed!
Be sure to tune in to see Jaylin on Snowpiercer on Sunday nights at 8pm ET/PT on TNT!
Check out his 10 Fun Facts below…
I don't like mayonnaise unless it's on a tuna sandwich from Subway.
I have a REALLY big sweet tooth.
I like cheese, but only on pizza, please (see what I did there, credit to Nick Jonas).
I love music from the 70's, 80's, and 90's (I'm an old soul).
My favorite food is butter chicken from this place in Fort Langely, Canada called Wendel's Bookstore and Café.
I love Fortnite. I sneak and play it when my mom goes to sleep because she doesn't like me to stay up all night playing it…
I love spending time with all of my family.
I love animals.
I HATE insects.
I wake up in the morning and my hair is already done (lol I still have to do it though).
Like Just Jared Jr. on FB