Tue, 26 May 2020 at 12:31 pm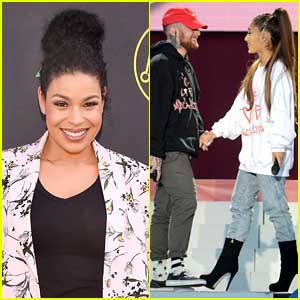 Jordin Sparks opened up about a huge hit song she wrote that catapulted Ariana Grande's music career.
The 30-year-old singer shared that she co-wrote the 2013 song "The Way", which also features the late Mac Miller.
"Here's something you might not know about me…I wrote 'The Way' w/ @sevyn & @igetpoints to an amazing track made by @harmonysamuels and inspired by Big Pun and @therealjoethomas song, 'Still Not A Player.' (IF YOU DONT KNOW WHO JOE IS YOU ARE MISSING OUT ON AMAZING R&B IN YOUR LIFE!)," Jordin wrote on Instagram.
"It was originally for my 3rd album when I started working on it in 2013. These pics are from when I won a BMI Award for the song. What a beautiful moment to remember and I was honored to be recognized for it. It was one of the top songs of the year! You guys know it by the incomparable @arianagrande feat @macmiller. (RIP🙏🏽) It was exciting to see her take it to the stratosphere! @arianagrande love you girl and I'm so proud of everything you've accomplished. 💕," she added.
Jordin also shared video footage of her vocals on the song, and singing along to it. Check it out below!
"truuuuust me when I say I wanted it. I played this at the start of all my other sessions to show what direction I was headed. But, honestly, I'm not trippin. Ari is amazing and if it wasn't going to be me, I'm glad it was her!" Jordin added.
Click inside for Ariana Grande and Mac Miller's version of "The Way"…

Ariana Grande & Mac Miller – 'The Way'
Like Just Jared Jr. on FB