Wed, 27 May 2020 at 2:38 pm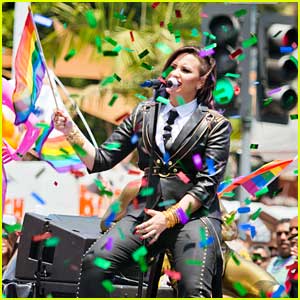 Demi Lovato is joining The Trevor Project for it's new pride campaign!
The 27-year-old entertainer is leading the new "Pride Everywhere" campaign for this year's pride month in June.
"Pride is here!! 🎉 I'm so honored and proud to help my friends at The @trevorproject celebrate #PrideEverywhere this year 💖🏳️‍🌈 No matter where you're celebrating, know that you are loved!!" Demi wrote on Instagram. Check out her campaign video right here on JJJ!
"It's about finding our strength even in times of challenge, sharing our joy even in moments of pain, and creating space to express and celebrate who we are. This season, 'Pride Everywhere' is the message we at The Trevor Project are sharing with the LGBTQ young people we serve, and those who support them," the Trevor Project website reads. "'Pride Everywhere' is about remembering what's at the heart of our community—values we live every day, and values the world needs so much right now. No matter how challenging things may seem, this much is true: Pride isn't going anywhere, because Pride is everywhere."
Demi recently opened up with her friend Alok Vaid-Menon about performing and serving as Grand Marshall at the 2014 Los Angeles Gay Pride Parade, where she also filmed her "Really Don't Care" music video.
"I held off on talking about issues that didn't necessarily pertain to me, for so long, because I was afraid that people would think that I didn't know about what I was talking about," Demi said. "When I did the 'Really Don't Care' music video, I did my music video at pride in LA, and I was the Grand Marshall. It was amazing, and it was such a cool experience, but I was terrified, honestly, that whole time and after, that people were going to think that I was just using the LGTQIA+ community, because I wasn't ready to come out and say I'm bisexual."
"I was terrified, and I think that that might be a reason why people are still terrified to speak out. I think especially heterosexual men are afraid to be allies to trans people and queer people because of toxic masculinity," Demi continued. "I think there are things we need to get past. We need to get past the fear and become allies to people and to speak our minds, even when it's uncomfortable for us who are speaking up. There are people in need, and that is so much more important than my fear."
Like Just Jared Jr. on FB