Mon, 01 June 2020 at 6:36 pm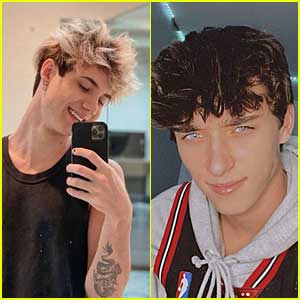 Sway House is now down two members!
Over the weekend, Jaden Hossler and Josh Richards announced they were stepping away from the TikTok house to focus on their music.
"hello everyone please know how grateful i am for you all. music has saved my life, & i'm sure it has for many of you. with that, i have decided to dedicate my time & efforts to that side of my career. Josh & I have decided to take a hiatus from sway," Jaden wrote on Twitter on Saturday (May 30). "we are excited for what's to come, and thank you all for your support!"
"just to inform you Josh and I are very excited about the content we are about to bring to you guys! ALSO we are very hopeful and excited to use our platform to spread LOVE!" Jaden added.
"I would first like to express how important you guys are to me, you've all given me so much to be blessed for & a life that I've always dreamed of. With that, I have decided to focus on furthering my projects & ventures in the entrepreneurial, music, social media, and artistic industry. Jaden & I have decided to go on a hiatus from Sway. Love you all, and will always love my sway family," Josh wrote on his account. "I have a lot of really big announcements coming soon that I'm excited to share with you. I am stoked for what's to come for @jadenhossler and I."
The news comes less than a week after Jaden and Bryce Hall were arrested over Memorial Day weekend during a road trip with the Sway House crew.
Like Just Jared Jr. on FB