Mon, 01 June 2020 at 5:35 pm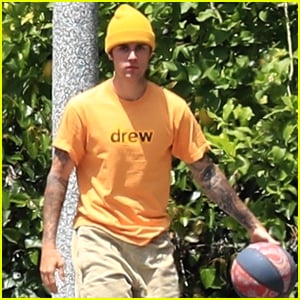 Justin Bieber rocks a matching beanie to his Drew House tee while playing some basketball with friends in Los Angeles over the weekend.
The 26-year-old musician enjoyed the sunny afternoon ahead of speaking with CNN commentator Angela Rye alongside wife Hailey Bieber about the protests around the country.
During the Instagram interview, Justin admitted to feeling shame for not paying more attention to the racial injustice following George Floyd, Breonna Taylor and other Black men and women's deaths.
"I've been feeling shame in the sense of like, why did it take these men being killed for me to almost take a blanket over my eyes. Why now? I do feel bad when it comes to that," he shared.
Hailey also spoke out about her complicity in the past to the injustice.
"Through this conversation with Angela I really just wanted to learn, to ask questions even if I thought they were the wrong question," Hailey wrote in her Instagram caption. "I want to know better so I can do better and I will not stop asking these questions and having these conversations. I want to keep learning how to be an ally, and I refuse to keep walking through life being ignorant."
Over the weekend, Hailey reacted to the murders on social media. See what she wrote here…
Watch their conversation below:
Like Just Jared Jr. on FB