Mon, 08 June 2020 at 7:00 pm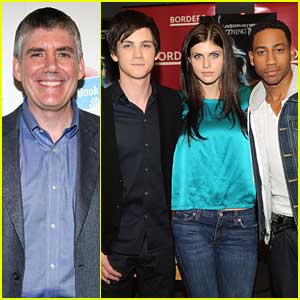 The author of the Percy Jackson book series has speaking out against the two movies.
Rick Riordan responded to a Twitter user who was watching the first film on Disney+ and asked if it had been edited.
"I don't know, but clearly it's a mistake. They should censor the entire thing. Just two hours of blank screen," he replied.
Another user said that it was "refreshing" that Rick also hated the movies.
"Well, to you guys, it's a couple hours entertainment. To me, it's my life's work going through a meat grinder when I pleaded with them not to do it. So yeah. But it's fine. All fine. We're gonna fix it soon…" Rick said in response.
"Finally, I still have not seen the movies, and don't plan on ever doing so. I judge them from having read the scripts, because I care most about the story. I certainly have nothing against the very talented actors. Not their fault. I'm just sorry they got dragged into that mess," he added.
In case you missed it, Rick recently announced that he is working on a new TV series based on the books for Disney+. See what star Logan Lerman said in response to the news!
I don't know, but clearly it's a mistake. They should censor the entire thing. Just two hours of blank screen. https://t.co/nPq9TPg9Sd

— Rick Riordan (@rickriordan) June 8, 2020
Well, to you guys, it's a couple hours entertainment. To me, it's my life's work going through a meat grinder when I pleaded with them not to do it. So yeah. But it's fine. All fine. We're gonna fix it soon . . . 😀 https://t.co/YFuk55kGJU

— Rick Riordan (@rickriordan) June 8, 2020
Finally, I still have not seen the movies, and don't plan on ever doing so. I judge them from having read the scripts, because I care most about the story. I certainly have nothing against the very talented actors. Not their fault. I'm just sorry they got dragged into that mess.

— Rick Riordan (@rickriordan) June 8, 2020
Like Just Jared Jr. on FB